King Estate, Eugene Oregon
A new Pioneer spirit came to the Oregon Hills in 1991; Ed King Jr., and his son Ed King III created King Estate on approximately 1,000 acres in Southern Willamette Valley, Oregon, near Eugene. A true Oregon Trail story, the King Family sold their avionics company, King Radio in Olathe, Kansas, to fund their trail west to the fertile Oregon hills. They now produce 350,000 cases of wine annually with the goal of developing the most diverse Pinot Gris, Chardonnay and Pinot Noir. Their Pinot Gris has been an award winner, with 314 acres planted. A nice surprise was the 2008 Blanc de Gris Sparkler, which is what we started with in the Tasting Room on our visit. Followed by 2015 King Estate Pinot Gris, we felt uplifted by the cheery pear and white peach flavors kept in check with fresh acidity.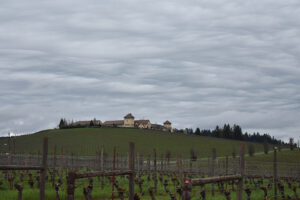 The 2014 King Estate Domaine Pinot Noir started the reds portion of the tasting. Produced from five blocks of grapes, twenty months in barrel-30% new French Oak, the nose of cigar, cocoa, and dark plum was mesmerizing! The flavors of cherry, leather, and earth did not disappoint. The dusty/earthy components were well-matched with the subtle tannins. Other reds we enjoyed include the 2014 NEXT Red Blend, with Merlot, Syrah and Cabernet grapes from Columbia Valley, Washington. A welcome surprise was the 2105 King Estate GSM, with grapes from the Rogue Valley (Crater View and Carpenter Hill Vineyards), presenting flavors of smoky, dark plum with a cassis and spice finish. We asked about growing conditions for 2015, since we were really on board with these wines. We were told it was dry, warm, and had record-breaking high temperatures.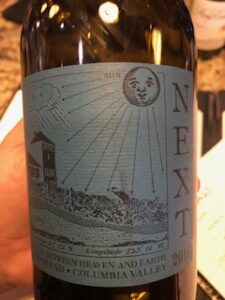 The tasting room is open daily 11am-8pm, where we were entertained by Emily. The restaurant on site serves all that wonderful produce from the property. We lingered over brunch waffles and burgers paired with the Northwest Reds wine pairing. The site is beautiful inside and out(even in the rain!) The estate is the LARGEST certified biodynamic in the United States and has been certified since 2002. The property is its own eco-system, with 30 acres planted with fruit, vegetables, herbs, and flowers. The King Family forged their "Oregon Trail" from Kansas to Oregon. I encourage you to taste the journey!
You May Also Like
No Comments